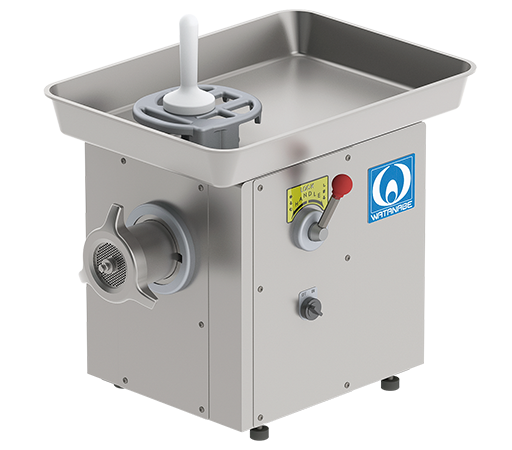 Characteristic urger make your mince fresh.
Simple and compact structure.
Only one lever for attaching/detaching urger. Easy to be cleaned up.
Keep Product Fresh
Equipped with Watanabe's original auger, keep products fresh.
Good sanitation
Cylinder, auger, cap, and plate are all made of stainless steel.
Simple and Compact
New simple and compact construction.
Safe with the Safety Circuit
Mechanized emergency stop. The safety circuit automatically works as a standard feature to stop the machine in case of emergency such as excessive load to the motor under some unfavorable conditions of use.
Working efficiency
Meat receiving section is wide, which contribute to improve working efficiency.
Easy cleaning
Food zone are detachable.
Characteristic urger

Box type

Roll is cassette type

Compact design

Silent machine